Our business is built on an unwavering commitment to deliver excellence in customer service. We focus every ticket, every project, and every day on doing the right thing for the customer.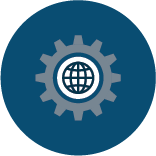 Solutions
Our services and support use a combination of automated tools and management systems monitored from our operations center.

Industries
From Private Equity to Manufacturing to Healthcare, Impact BT has the knowledge and expertise to achieve your business goals.
OUR ORIGIN STORY
In 1996, after discovering the underserved market in IT support for small to medium-size businesses, Neil Holme founded Impact Business Technology. Building off a background in electrical power generation with projects in the UK, Eastern Europe, Africa, and South-East Asia, Neil created an IT services organization based on solid engineering principles with IT security as a core component.
Over the 20+ years we've been in business, Impact BT has built a client base comprised of private equity and hedge funds along with a broad range of portfolio companies spanning across industries including manufacturing, healthcare, supply chain, professional services, and financial services from Maine to Mexico.
WHY IMPACT BT?
Your business can benefit from the same enterprise-level systems and services delivered to large-scale, corporate customers.
The technology systems deployed in your business are a critical part of your operations; our solutions are built on industry-standard platforms with just the right level of customization to achieve your business goals.
"We appreciate all the work the Impact team does for us. They are doing an amazing job. No matter what issue may arise, when I call the team helps"